According to a local realtor in Ajax, Ontario – the best paint color to help sell a home and increase it's perceived value are those with neutral tones. Benjamin Moore's White Dove and Sherwin-Williams' Alabaster are prime examples of natural greys and whites that help sell a home in today's changing market place.
A fresh coat of paint is highly recommended by Audrey Win, a real-estate expert and finance professional. It is something homeowners can do on their own, or perhaps hire someone to get done. In either case, a fresh coat of paint can completely change the way a home looks.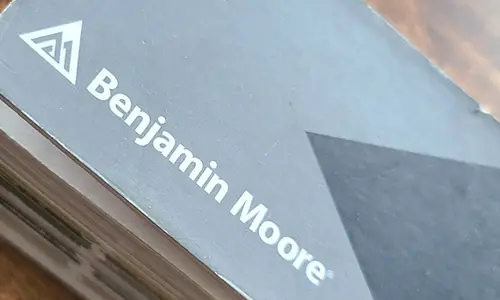 After speaking with local realtors, we learned that many sellers become distant and weary of bright colors. Most sellers prefer to start with a neutral base so that they have the creative opportunity to add to it, and create a unique home for themselves.
The majority of sellers' minds will also be impacted by seeing bright colors, which can change their perception of the entire home – causing further distance from the idea of purchasing the home.
It's why neutral colors – such as beige, grey and off-white are highly recommended by our realtors. There are many neutral colors homeowners can choose for their home, so we've teamed up with a few real estate experts and contractors to bring you a list of the best paint colors to sell a house this year.
Benjamin Moore – White Dove (OC-17)
White Dove from Benjamin Moore is highly regarded as the most popular white paint option for homes. It is a warm white paint color that is impeccably soft, bringing out its true deep warmth with sunlight.
There are multiple color options that pair well with White Dove, making it a highly versatile paint color for all areas of the home. Whether you're covering your walls, trims or cabinets – this is a highly popular and sought after paint color.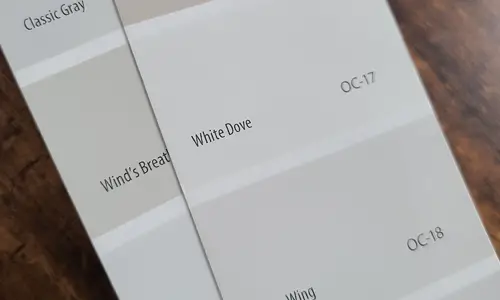 I recommend this paint review written by an interior designer, as she thoroughly analyzes Benjamin Moore's White Dove.
Sherwin-Williams Alabaster (SW 7008)
Alabaster from Sherwin-Williams is an incredible creamy off-white paint color with a neutral base that is not quite considered white. With it's soft beige undertones, this paint color will do wonders to any living space.
If you're in the process of selling your home, this Alabaster paint from SW will create a warm depth to the walls. It's not as close to yellow, but just creamy enough to soften the space. There is no doubt why this paint color was the winner of Sherwin Williams' 2016 Color of the Year award.
Benjamin Moore – Chantilly Lace (OC-65)
Chantilly Lace is considered one of the whitest paint colors, and it's a great paint color to begin your color search at. According to BM, this color is their true white, with a deep hint of white that will shine off the walls.
If you're looking for a paint color that is truly white, this is the color option for you. The paint will carry a gray hint in the morning, and a warm tone in the evening.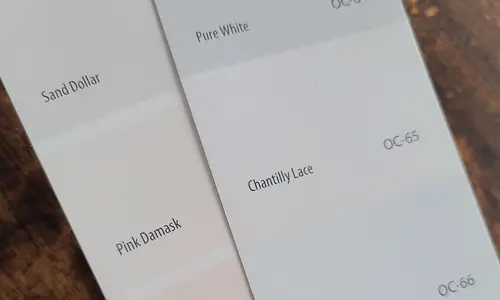 A number of homeowners prefer using this tint of white on trims and baseboards.
Sherwin Williams – Agreeable Gray (SW 7029)
If you're looking for a warm gray with warm undertones of beige – this is the color for you. Sherwin Williams has done a fine job perfecting this color, and it works well in many homes. This paint color is great for new homes, and works well in living rooms, kitchens, bathrooms and even basements.
Agreeable Gray has been a top-pick in stores for several years, and continues to be a interior designer's favorite color option. It's inviting color will show-off your home any time during the day.
Benjamin Moore – Gray Owl (OC-52)
Gray Owl from Benjamin Moore is the ideal option for those who want cool gray's in their home. The paint color isn't too warm, and considered more of an off-white. This gray color option will definitely emit that green undertone it's known for.
If you're painting Gray Owl on the walls, I would also recommend using Alabaster from Sherwin Williams for the trims. This pair is incredibly wonderful.
Benjamin Moore – Cedar Key (OC-16)
We're leaving one of the best for last – the Cedar Key from Benjamin Moore. This paint color from Benjamin Moore has the perfect mix of taupe and beige undertones. It is classified as a beige color option, but with the required gray to bring in some taupe tones.
This paint color is a very popular option for new build homes that want to bring in some warmth to the interior. It has a relatively lower "White" rating, making it far from the traditional white.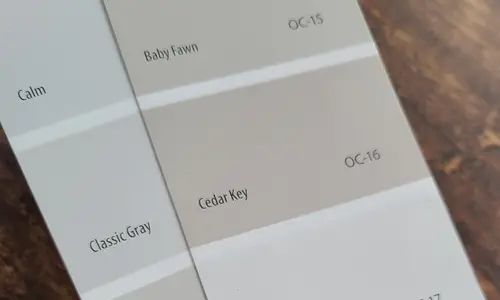 If you're thinking of getting a matching color for your trims and baseboards, I would highly recommend the White Dove or Chantilly Lace from Benjamin Moore.
If you're remodeling your home this year, or painting your home to list it on sale – I would recommend selecting one of the top six paint colors to sell a house in 2023.