The 2023 real estate market in Canada is showing signs of slowing down. In cities across the country, we're seeing market slowdowns caused by the rising interest rates. While home prices remain high, the amount of bidding wars has dropped significantly.
In cities like Montreal, Toronto, and Vancouver – the work-at-home movement in 2020 prompted people to leave the major city and move into the suburbs. According to a report from CBC, the Toronto exodus has led to a loss of 50,000 people, while in Montreal that number is 26,000. We're continuing to see this movement impact the real estate market from coast to coast.
While buyers are struggling to find affordable homes to purchase, we also have investors with a lot of money ready to invest. While the rising interest rates have slowed down the pace of the investing community, some buyers are ready to invest in income-generating properties. Investors understand that while interest rates are high, the prices will tend to be lower – allowing them to purchase at a great deal.
Nowadays, most investors who are buying homes are renovating, re-selling or refinancing, and renting. It is a trend that is taking place in both small and large cities.
For example, Belleville, Ontario is the latest booming city in Ontario where GTA'ers and investors have flocked over to buy up anything that comes on the market. It has created a never before seen trend – homes selling above the asking price. While home prices remain high, the rental market is also staying strong – prompting investors to increase their pool of properties.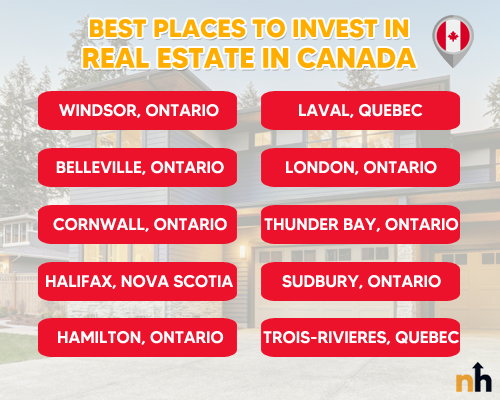 If you're looking to invest in real estate in Canada, we've prepared a list of the best cities for you.
Windsor, Ontario
With home prices at reasonable levels in Windsor, this is a great place to invest in. The city is home to many auto workers and students from the University of Windsor. If you're looking for single-family homes, multi-unit homes, and multi-family buildings – the Windsor rental properties are a great investment. The bulk of homes in the area are not maintained as high as they are looked after in the GTA.
A fair amount of people who live in Windsor actually work in Detroit – but they choose to live in Canada for reasons such as medical care. Windsor, Ontario would be a fantastic rental investment in Canada for 2023.
Belleville, Ontario
The recent pandemic has prompted a 1.6% increase in the population that is just from the Toronto exodus. Additionally, those who are struggling and/or fed up with the rising cost of living in Toronto are moving away to places like Belleville. In the last three years, the city has announced the opening of Costco, renovations for roadways, and improvements to transportation, and investors have started rebuilding parts of the city.
With high rental income from rental properties, the city has become a goldmine for investors looking to purchase duplex, triplex, and fourplex units – not to mention apartment buildings. A considerable amount of people in the city still rent – and that number is increasing with new arrivals to Loyalist College and an influx of new Canadians coming into Belleville, Ontario.
This would definitely be a top city in Canada for rental property investments.
Cornwall, Ontario
The city of Cornwall is a relatively small city with an estimated population of 48,000 as of 2020. The city is very affordable for most people, with housing prices under $300,000. As for the rental market, the rents are relatively in line with the lower cost of living. However, as an investor – you can earn a decent revenue on your investment.
There are many multi-unit homes in the city and at a 20% down payment – investors can earn over their mortgage and expense costs. While home prices do rise, they don't increase at the same pace as in other Ontario cities. Cornwall is home to duplex, triplex, fourplex, and multi-unit apartment buildings. With the lack of demand for new construction homes in Cornwall – there are very limited new developments in the area.
Halifax, Nova Scotia
The city of Halifax has been a top contender for many real estate investors in the Atlantic provinces. It is home to tourism, as well as student traffic from their university. In the city, real estate prices remain low, while rental prices are catching up and providing investors with some cash flow. The province as a whole has been growing in population, and with it comes this demand for rental units.
There are many investors from central Canada that have flocked over to Nova Scotia to get into income-generating properties. We are already seeing an increase in property management companies, which is a leading indicator that there is rental demand, and quite possibly – a sign that investors are outside the city/province.
The average price of real estate in August 2022 in Nova Scotia was $385,935.
Hamilton, Ontario
If investing in 2023, Hamilton, Ontario will provide a powerful real estate investment. With a handful of hard money lenders funding projects in the area – Hamilton is home to many new fix and flips. A significant amount of homes in the city are old, which means investors are willing to come in and spend some money to fix them up. With the current demand levels for housing, many people are looking for affordable homes.
In Hamilton, many people are looking for homes that they can quickly move into – whether rental or buy. The investors are the ones who are making a considerable amount of money post-renovation. Investors can refinance these renovated homes and re-invest their funds – while renting out the home. Rental prices are still relatively high enough for the investor to make money owning a multi-unit.
Laval, Quebec
For years, Laval has been an affordable neighborhood for Montrealers. With a 15-minute drive over the bridge, you get into Laval. With lower home prices and a considerable renting population – this is one of the best places in Canada to invest in. The city of Laval is seeing lower real estate sales, prompting investors to bid on income-generating properties.
In recent years, many Canadian investors from across the country have considered Laval, Quebec for investment properties. You can purchase single-family homes, duplexes, triplex, and multi-unit buildings in the area. If you're considering investing in Quebec – you might want to work with a professional real estate agent who knows the market, understands the regulations and can help guide you through the OACIQ-approved buying process.
London, Ontario
The area has become significantly popular among new Canadian students arriving from abroad. Many students arriving in Canada choosing to live in London are attending Western University, Fanshawe College and Westervelt College. With the recent surge in Torontonians leaving the city and moving away – some have looked to London, Ontario due to the low cost of living. With affordable home prices in the area, many are selling off their investments in the big city and moving in.
If you are considering investing in London, you can pick up multi-unit properties, single-family homes, and apartment buildings.
Thunder Bay, Ontario
While Thunder Bay may seem like a faraway place to invest in, many investors have seen positive returns from their rental properties. With low real estate prices and above-average properties – an experienced investor is able to find a great deal. A handful of GTA investors have looked to Thunder Bay and neighboring Sudbury for rental properties.
There is a high percentage of workers who are contract-based, and they often get moved around for work. Due to this, many workers will find themselves renting homes and apartments while living there. As interest rates continue to rise and the amount of sales drop, we're seeing many private real estate deals occurring in Thunder Bay.
If you are interested in investing in real estate in Thunder Bay, we recommend joining private real estate groups on Facebook to get access to deals. There are many real estate wholesalers who work with property owners to off-load properties. In some cases, there is the option to take advantage of  VTB financing (vendor take back). This is a type of financing where you don't obtain a mortgage from the bank but from the existing owner of the property.
Sudbury, Ontario
Sudbury has long been considered one of the most affordable cities for real estate in Ontario. While duplex, triplex, and 4-plex properties in Sudbury are appearing infrequently on the MLS – they are still being sold and purchased by investors. The primary reason is due to private real estate deals that occur between investors, property management companies, real estate wholesalers, and owners looking to offload. An additional reason for investors considering Sudbury is the area's low vacancy rate which yields great returns.
The city of Sudbury has access to all the amazing amenities you would find in urban centers such as Toronto. The Place des Arts du Grand Sudbury is an example of a great investment in the city, which offers a theatre, art studio, gallery, restaurant, meeting spaces, and more. Apart from the investment in the city's entertainment and leisure activities – the city is also focused on bringing improvements to the infrastructure.
Trois-Rivieres, Quebec
A slightly underrated city in Quebec, located about 1.5 hours east of Montreal. The area is home to the Université du Québec à Trois-Rivières, among many other educational facilities. While real estate prices are low, rental prices remain steady enough to make an investment worthwhile. Again, you'll find duplex and multi-unit properties in Trois-Rivières at prices from $170,000 and up. With a decent down payment, investors can turn a profit right from the start.
It's always advised to speak to a professional real estate agent who has worked in the area and understands the real estate laws of the city.
To conclude, these are the 10 best places to invest in real estate in Canada currently in 2023. We monitor the Canadian real estate market frequently and will continue to update the cities on this post.