The Canadian equivalent of an FHA loan in Canada is a mortgage insured by the CMHC (Canada Mortgage and Housing Corporation). The FHA loan is a mortgage offered by lenders in USA, which is backed by the Federal Housing Administration.
A mortgage is a type of loan you obtain from a credited lender, which is secured by a piece of property. In some cases, home buyers do not have a sufficient downpayment to meet traditional mortgage qualifications. In this case, home buyers resort to a FHA loan.
What is an FHA Insured Loan
A FHA insured loan is a mortgage available in the USA, which is backed by the support of a government agency. The Federal Housing Administration guarantees the mortgage for lenders who are providing these mortgages to homebuyers. A FHA loan can only be obtained from a financial institution or lender that has been approved by the FHA.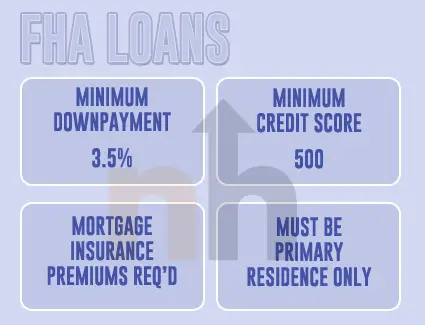 A homebuyer can qualify for a FHA loan easier than they would for a regular mortgage. In all cases, you would need to put a downpayment towards your home purchase. However, the amount of your downpayment is based on your FICO credit score. There are three credit reporting agencies a lender will consult – Experian, Equifax and TransUnion. For example, a FHA loan will require the below downpayment:
| | |
| --- | --- |
| Credit Score | Minimum FHA Downpayment |
| 500 to 579 | 10% |
| Over 580 | 3.5% |
You might be wondering, what is the benefit for the FHA and how they earn an income by insuring your mortgage. The FHA will charge you a mortgage premium – also known as mortgage insurance. There are two premiums a homebuyer will pay:
Initial Mortgage Insurance Premium – 1.75% of the mortgage amount borrowed

Annual Mortgage Insurance Premium – 0.45% to 1.05% of the mortgage amount borrowed
There are several other requirements that homebuyers must meet in order to qualify for the FHA insured loan/mortgage. These additional requirements include:
A debt-to-income ratio of less than 43%

The homebuyer must be willing to show proof of income

The homebuyer must be purchasing a principal residence

The homebuyer must have a steady verifiable income
FHA Mortgage Loan Equivalent in Canada
The best alternative to FHA loans in Canada is a mortgage guaranteed by the Canadian Mortgage and Housing Corporation (CMHC). The CMHC is a government crown corporation, which earns revenue through the mortgage premiums its customers pay.
A CMHC-insured mortgage is a type of loan available for homebuyers who do not have a large enough downpayment to meet the minimum 20% required by lenders. There is a minimum required downpayment of 5%, regardless of the final selling price of the home. CMHC has a tiered structure when it comes to the downpayment requirement:
| | |
| --- | --- |
| Tiered Value of Home | Minimum Downpayment Required by CMHC |
| Up to $500,000 CAD | 5% |
| $500,000 to $999,999 CAD | 10% |
As you can see, you will be required to pay a 5% downpayment on the first $500,000 and a 10% downpayment on the remaining balance up to $999,999. If a home's value is $1,000,000 or more, a minimum downpayment of 20% is required. In essence, it means that CMHC mortgage insurance is not available for a home that is above one million dollars.
A few other requirements you must meet in order to qualify for CMHC mortgage insurance include:
The buyer must have a minimum credit score of 600

The combined gross debt service ratio must not exceed 39%

The combined total debt service ratio must not exceed 44%

You must pay the mortgage insurance premium at the time of purchase
Overall, you can see how the CMHC-insured mortgage loan is very similar to the FHA-insured loan. Speaking of the similarities, let's compare the two so you can see the big picture:
| | | |
| --- | --- | --- |
| Characteristics | FHA Loan | CMHC Mortgage |
| Minimum Credit Score | 500 | 600 |
| Minimum Downpayment | 3.5% | 5% |
| Minimum Debt Ratio | 43% | 44% |
| Must be Principal Residence | Yes | Yes |
| Initial Mortgage Premium | Yes | Yes |
| Annual Mortgage Premium | Yes | No |
| Processing and Approval Time | 30 to 45 Days | 2-5 Business Days |
In Canada, CMHC is not the only provider of mortgage insurance for mortgages with less than a 20% downpayment. The two other providers are private companies that offer mortgage default insurance – Canada Guaranty and Sagen (used to be Genworth).
Advantages of CMHC Insured Mortgage
You can deposit less than 20% of the purchase price of the home

You can combine the cost of mortgage insurance with the cost of your mortgage

You can qualify for a mortgage with a lower credit score of 600

You can benefit from a low-interest rate as your mortgage is backed by CMHC

There are no ongoing premiums to pay for your mortgage insurance

Your application can be approved within 2 to 5 business days
Disadvantages of CMHC Insurance Mortgage
The cost of mortgage default insurance can exceed the potential benefits of a low-interest rate.

The lower downpayment can result in higher monthly mortgage payments

The principal paydown will take longer, as most of the downpayment may have gone to CMHC.

The homebuyer must be purchasing a principal residence, and may not have CMHC mortgage on another property
This is the best option if you want a type of FHA loan in Canada. It may not have the same FHA loan benefits, but the options are suitable for most Canadians.
Is It Better to Avoid CMHC Fees?
It is better to avoid CMHC fees, by putting a 20% downpayment on your mortgage. You will be able to save several thousand dollars by increasing your downpayment to the minimum required for a conventional mortgage.
When your down payment is below 20%, it is a potential risk for the lender to lend you money to purchase a home. If the downpayment is 5%, the risks are even greater for a traditional lender. In order to offset the risk, CMHC will charge you a mortgage insurance premium.
The fees you pay towards mortgage insurance premiums will vary, depending on the percentage of your downpayment. It is important to know that you can put any percentage of downpayment between 5% and 20% when you have CMHC coverage. You can see the rate chart for the amounts of premiums you will get charged.
So, what happens to CMHC when you sell a house? Nothing happens to the CMHC coverage, as it is not tied to the property, but to the mortgage loan. When you sell a house, the mortgage gets discharged from the lender, and you currently do not have any CMHC default insurance.
If you purchase another principal residence and put less than a 20% downpayment, you will opt-in for another CMHC mortgage insurance coverage. This again is the one type of FHA loan in Canada.
What to Do if Mortgage is Approved but CMHC is Denied?
A mortgage approval comes from your lender/financial institution, but your mortgage default insurance comes from CMHC. If you were denied by CMHC, it can be for one of many reasons. A lender will also carry different rules when it comes to underwriting a mortgage loan. If you were denied by CMHC, you might want to look at the below factors:
Your debt-to-income ratio may be too high

Your mobile home is on leased land

Your income is not stable

The valuation of the home has come lower

A failed stress test using your income
The CMHC stress test is a test conducted using your income to see if you can afford to pay your mortgage in the event the rates increase. The stress test interest rate is your mortgage rate plus 2% or 5.25% – whichever of the two is greater. You may also want to read about some of the reasons why mortgages get denied.
If you're looking for a type of FHA loan in Canada – you can consider CMHC, Sagen or Canada Guaranty.