On average, it takes 9 months to build a new house from start to finish. This length of time excludes the demolition of your previous property.
When building a new home, there are many processes and steps involved which require coordination and planning. A new build home will start at the design stage, where floor plans are discussed and finalized. This will lead to permits, foundation, exterior framing and construction, interior construction and finishes, and final finishes.
When you're building a new house, you need to be aware of the things that can cause delays in the timeline. We're seeing a shortage of building materials and human labor, so these are factors to take into consideration when building a home. First, let's begin by looking at how long it takes to build different-sized homes.
Time to Build a House Based on Size
The table below lists different sized houses, and the amount of time it takes to build them.
| | |
| --- | --- |
| Size of House | Time to Build |
| 1000 sq ft House | 7.7 months |
| 1500 sq ft House | 8.6 months |
| 2000 sq ft House | 8.9 months |
| 3000 sq ft House | 9.9 months |
| 4000 sq ft House | 11.2 months |
| 5000 sq ft House | 12.0 months |
Choosing a House Plan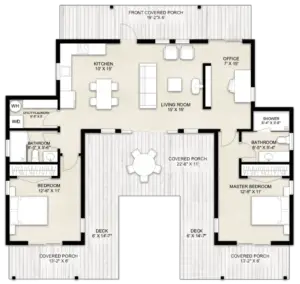 The first stage in building a house is choosing the best house plan that meets your criteria. Before you decide on the exciting upgrades for your new build home, you need to think about the essential features of the home. In this stage, you will decide on how many floors, bedrooms, bathrooms, and the size of the home. Are you interested in an open floor plan?
Once you know the answers to these questions, you can purchase a house plan. There are plenty of house plans online, such as Truoba. You can purchase ready-made house plans that meet your criteria and save thousands of dollars. Truoba is a highly recommended architect service offering modern house plans with free drawing changes (as recommended by permit offices and structural engineers).
You will generally spend one to two months in the design and house plan phase of your new build.
Foundation and Framing
When a house plan is chosen, the type of foundation would have also been decided on. There are three types of foundations for new homes: crawlspace, slab or basement. With the forms in place, you will need to have concrete poured into the different sections to form the foundation of the property. The foundation and framing are the roots of the home, and they are critical elements that require an inspector's review once completed.
In 40 minutes, a single truckload of concrete can pour 30 feet of concrete for the foundation. It will take one week for the concrete foundation to be set in place for framing work. Once the foundation is set, your builders will begin the framing work as per the house plan. This is when the form and structure of the layout become visible.
During this step, an inspector will review various aspects of the semi-completed build to allow for house wrap and drywall. The foundation, framing, and inspection process will take 12 weeks to complete.

House Wrap
In this stage, the new home will start to receive its enclosure. This includes weather barriers, insulation, doors and windows, and roofing. With the entire home enclosed in its exterior construction, the home will make its way to the exterior finishes.
When you see homes barricaded with material that says Tyvek, the house is in this stage. Tyvek is a popular brand of weather protective barrier.
Additionally, the insulation you choose for the home will be critical in this phase. It is the one product that protects the home from extreme weather conditions, such as heat or cold. Your builder will have suggestions for high-quality insulation with the appropriate R-Value.
Exterior Construction and Finishing
The exterior construction and finishing consist of the exterior look of the home. Will your home have vinyl siding, brick, stucco, or a combination of all these? With a custom house build, some homes may have stone veneer as well.
During this phase, some builders will also start working on the heating and ventilation systems, as well as making sure the appropriate exhausts are opened on the exterior. The specialized trades will begin their electrical and
plumbing work during this stage, as all the walls are opened.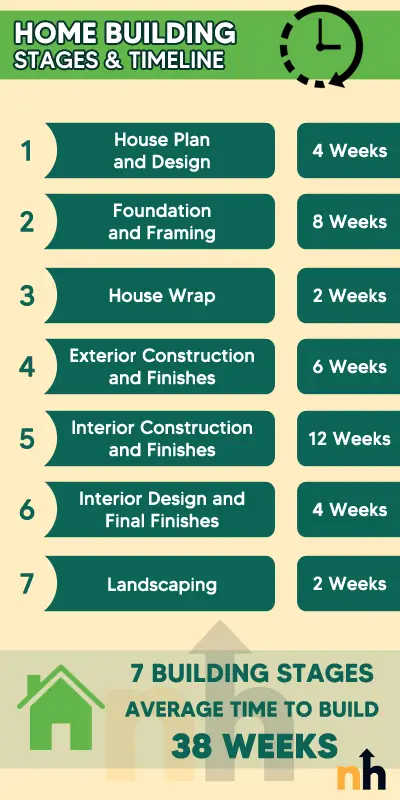 Interior Construction and Finishing
This stage will begin once the electrical work and plumbing work have been reviewed from the previous stage. In interior construction and finishing, your drywall will go up. All the walls and ceilings will be covered by drywall. The finishing work includes plastering, popcorn ceiling, millwork, trims, and crown molding.
The finishing work is primarily chosen by the customer – as it relates to the aesthetics of the home. This stage will include coffered ceilings as well.
Interior Design and Final Finishes
In the interior design and final finishing stage, you will get to choose the specific items and features that make up the home. This will include your vanities, kitchen cabinets, light fixtures, flooring, tiles, plumbing fixtures, backsplash, and more.
This home-building process will end with a final walkthrough of the home. During the pre-delivery inspection, you will need to ensure that everything is just how you would like it. Make sure to turn on all the working items to see if they are in working order. This final inspection is your chance to highlight any issues in the new build.
This stage of the home-building process will take four weeks to complete.
Landscaping
The landscaping for a new construction home may take place as soon as the home is built, or it may get postponed for a later date. It is dependent on whether the customer has chosen this as part of the home-building project.
The landscaping is typically completed in one to two weeks, depending on the extent of the build. If the landscaping requires only sod, and fencing – this can be completed in one week. If pools, water features, or retaining walls are involved – the landscaping project can last two weeks.
Home Building Stages and Their Timeframe
| | |
| --- | --- |
| Stages of Home Building | Timeframe |
| House Plan and Design | 4 weeks |
| Foundation and Framing | 8 weeks |
| House Wrap | 2 weeks |
| Exterior Construction and Finishes | 6 weeks |
| Interior Construction and Finishes | 12 weeks |
| Interior Design and Final Finishes | 4 weeks |
| Landscaping | 2 weeks |
In conclusion, the seven stages of the home building process above will require about 9 months to complete for the average 3000 sq ft home. Nowadays, it is very common for construction projects to have delays. The most common delays in building a home include:
Permitting and re-permitting after changes

Construction material shortage

Human labor shortage

Inspection reviews and changes

Extreme weather conditions
If you can keep these reasons for delays in mind, you can be better prepared for any timeline issues that come up during the home-building process.