A link-detached home is a property that is only connected by a concrete wall at the garage, and built on the same foundation. The home will not share any walls with the neighboring home. This is why it is considered to be detached, but linked at the garage.
This type of home appears connected at the garage from above the ground. Underground, the home is connected through the foundation.
Our first home in Ajax, Ontario was a link-detached home, and it was built in 2003. It was a new concept for us, but it provided us with a better financial option over a detached home. A link-detached home is less expensive than a detached home, but slightly more expensive than a semi-detached or townhouse.
If you are considering a link-detached home, let me tell you some of the pros and cons of owning a link-detached home.
Advantages of Link-Detached Homes
Prior to purchasing a link-detached home, I would recommend reading about some of the benefits of owning this type of home.
Reduced Noise Levels
The reduction in noise levels is one of the main benefits in owning a linked home. Since none of the walls of the home are shared with the neighbor, there is absolutely minimal noise that travels through the walls.
We had a basement in our linked home, and the basement had absolutely no noise issues either.
However, I will say that noise will travel from one garage to another. When our neighbors are in their garage, we can sometimes hear them speaking very faintly. It's because there is just one concrete wall between the two garages. I would also suggest reading about how new builds are less soundproof nowadays.
Higher Real Estate Values
As a link-detached homeowner, you will benefit from slightly higher real estate gains in comparison to a semi-detached home. Additionally, when the time comes to sell your home – there will always be some buyers who value the reduction in noise.
Separate Property Category
A link-detached home has it's own category with the real estate boards, meaning it is a true and recognized category. The local real estate boards will also report on the sales and price statistics on these types of home.
As a result of the statistical reporting available on linked-homes, there will be some data available when it comes to property valuations and comparables.
According to the Durham Region Association of Realtors, the average price of a link home in Durham in January 2023 was $741,667. The average price of a detached home in the area was $977,662. That is a $235,995 difference between a link-detached and a detached home!
Disadvantages of Link-Detached Homes
We have personally enjoyed living in our linked home, but we have heard from our neighbors about their link-detached house problems. While we would not consider these as problems, they may be a disadvantage for some.
Shared Driveway and Fence
With a link home, you will be sharing a driveway and be limited to parking one or two cars on your driveway. If you don't like the idea of sharing your driveway, this may not be the best housing option for you.
Each time we would get our driveway sealed, we would get our side and the neighbors side completed at the same time. It allowed us to share the cost, get a slightly better price and make the full driveway look even and clean.
We have seen some link houses convert their front lawn into an additional parking spot by installing interlocking pavers and stones. For example, have a look at this linked-home that removed their front lawn, and added space to park an extra two cars!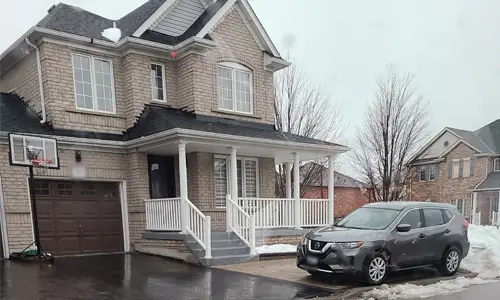 In a link-detached home, you will have a backyard that shares a fence with the neighbors. If the fence requires maintenance or replacement in the future; you will need the neighbor's permission to complete any work.
Unable to Extend/Rebuild Home
When you have a home that is linked, you will not have the option to teardown or build up, as the neighbor would be impacted. However, you may be able to extend the home in the rear – as no walls in the rear are linked.
In conclusion, link-detached homes are a great option for first-time and repeat homebuyers. If you're considering purchasing a home, we also recommend working with an experienced realtor in the neighborhood.
Why do Builders Like Link-Detached Homes?
A link-home gives the builder a few advantages to maximize the plot of land they have available. A builder is able to save anywhere from six to eight feet of width per home, resulting in several additional homes in one plot of land.
In addition to this, the builder would be able to save costs on pouring foundation, bring in sewer connections and water lines. There are several upfront costs the builder will save on from building a link-detached house vs a fully detached house. It is these savings in costs that make a link home less expensive than a detached home.
Lastly, keep in mind that a link home must be sold as a link home. It cannot be advertised as a detached home.