You can install solar panels on a new construction home cost-effectively because you can incorporate the installation with the building process, saving you time and labor costs. There are many home builders who are starting to incorporate solar panels in their new builds, bringing energy-efficient homes to the market.
A homeowner can benefit in many ways by installing solar panels on their new construction home. With rising electricity rates, every homeowner is looking for a way to save money on utility usage. While solar panels are great for homes, it's still rare to see them in new subdivisions developed by builders.
We know that homebuilders commonly subcontract the trades they use for their projects, which include electricians, plumbers, drywallers, etc. Similarly, solar panels will be designed, built, and installed by professional solar panel installation technicians. The initial investment of installing solar panels on your new build home will pay off over the years as you reap the rewards of lower electricity bills.
You can increase the value of a home by having solar panels installed on your new construction home. If you are building a custom home from spec, we recommend speaking with a solar panel company to assist with the design-build. A team of professionals will work together to ensure everything is completed according to code.
Benefits of Solar Energy in Homes
There are financial benefits and environmental benefits to having solar panels on your new construction home. While many homebuilders don't offer this as an upgrade on their models, we believe this will become a popular upgrade as the cost of solar panels come down.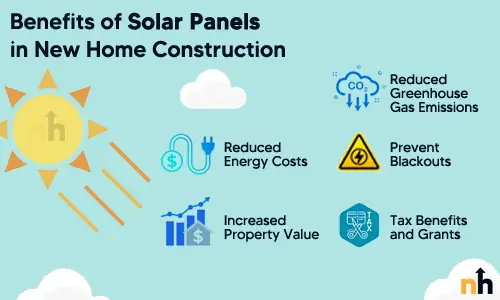 The following are the benefits of solar panels in new build homes.
Reduced Energy Costs
A home, whether old or new, will save money from reduced energy costs by having solar panels. Solar energy created from solar panels will help the average home save $20,000 in energy costs over the lifetime of the panels. It may not seem like a ton of money, but it will definitely make a dent in your electricity bill.
New construction homes are built with better materials, and coupled with solar panels – you can save money on your utilities.
Increased Property Value
According to local appraisers, a professionally installed solar panel system can boost the value of a home by up to 5%. If a home is appraised at $500,000 prior to adding solar energy panels, the home's value can go up to $525,000 with a custom solar build. A potential homebuyer will also prefer a home that has a solar panel, as there is a perceived perception that there will be energy cost savings in the years to come.
Reduced Greenhouse Gas Emissions
While this is not a direct impact of you installing solar panels on your new construction, it definitely contributes to lowering greenhouse gas emissions. According to Statistics Canada, the greenhouse gas emissions per capita in 2018 was 4.1 tonnes. It is estimated that greenhouse gas emissions from solar panels are one-twentieth of coal energy. The effects can be environmentally beneficial in the long run – especially if all new home constructions are adapted to solar power.
Prevent Current Loss During Blackouts
If your home relies on the energy grid offered by your local hydro company – there are definitely chances of blackouts. In some areas, hydro companies don't have the infrastructure to handle nature's worst weather conditions.
There have been multiple weather incidents that have ripped off power to thousands of homes, leaving some new construction homes without power for days. A home with solar energy will have access to power that is off the grid – a great option to prevent electricity loss during blackouts.
Tax Benefits and Grants
With climate change and environmental issues taking a center stage in most governments – there have been an increase in tax credits and grants for homeowners. For example, governments will offer residential solar energy tax credits which are calculated as a percentage of the cost of the solar panel system.
Most programs will have eligibility criteria to qualify for grants and tax credits. We recommend searching for solar panel tax credits and grants in your city, province or state.
If you add up the energy cost savings, added value to your home, reduced GHG emissions, and tax credits – you will definitely come on the positive side of the equation. The cost savings and impact on the environment are simply too high for new construction homebuyers. If you are building a custom home, it would be to your benefit to add solar panels to your new build.
In California, the CEC has made it mandatory for some multi-family homes to be built with solar panels starting in 2023. This is a bold and much-needed move, as we try to lower our dependence on coal and fossil fuel energy sources. If all governments mandated new construction projects to include solar panels in the coming years – we would be well on our way to a better environment.
Why Don't New Builds Have Solar Panels
The implementation cost of solar panels is the main reason why new builds don't have solar panels. With a lack of government support for builders and homebuyers, it will be difficult to include solar panels in all new builds.
In 2021, as the world dealt with many economic challenges, production delays, and supply chain limitations – the cost of solar panels actually increased. This increase in price has stuck around since then, making it much more difficult for builders to make this an option for every new build.
As rising electricity costs hit the books of homeowners, there will be an increased push for the government to do something. The best case scenario for future homes is to see governments providing homebuilders with solar grants to build homes with solar panel systems.
According to a Pew Research Center study, approximately forty-six percent of homeowners have considered adding solar energy panels to their homes. This number increased six percent to the year prior, indicating a rising interest in this renewable energy source.
Such grants would make it possible for homeowners to afford new construction homes while taking advantage of a more energy-efficient home.
Can You Include the Cost of Solar Panels in Your Mortgage?
Yes, you can include the cost of solar panels in your mortgage if the home already has an existing solar panel system. If you are installing a new solar panel system, and want to roll the cost into the mortgage – you will need a second mortgage or refinance.
Before you decide to include the cost of your solar panel system in your mortgage – it's important to think about the interest costs. If you are going to be paying interest on this additional cost over the next 25 or 30 years – will it still be beneficial? That is, will the financial benefits outweigh the overall cost of the system?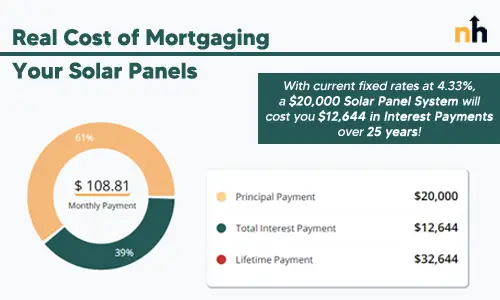 It may be a great idea to increase short-term cash flow but always think about the overall cost at the end of the term. At the end of the day, it all depends on how you see it and which way you'd like to prioritize your finances.
We recommend speaking with a mortgage professional, if you are thinking about financing the cost of solar panels with your home's mortgage.