Our Square One home insurance reviews is an overview of what to expect from this home insurance service. Great rates and best-in-class customer service make Square One a top pick.
Currently available in Ontario, Alberta, Manitoba, British Columbia and Saskatchewan, covering:
Detached Homes

Rowhouses and Townhouses

Condos

Duplex and Semi-detached

Vacation Properties

Rental Properties

Renters and Tenants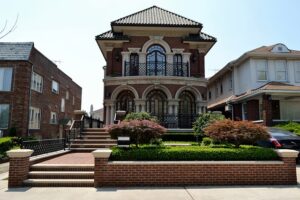 Square One Insurance is a good insurance company with affordable rates, easy to use platform and no contracts. To highlight, they offer home insurance for tenants starting at only $12/month. Homeowners can get great low rates on home insurance and inland flood, water backup insurance and broad water damage insurance.
If you're looking for a home insurance company with a dependable response time, quick turnaround and full customization – our Square One home insurance review can help you decide why this is the company for you.
This home insurance company let's you choose your coverage, deductibles and limits. What you insure and for how much is completely up to you!
As a minimum, this home insurance from Square 1 gives you protection for incidents like fires and break-ins. You don't have to add this service to your coverage, as it's part of the basic coverage.
What's Covered Under Your Home Insurance?
Square One Home Insurance offers a full suite of protection options in 2023. These will include pipes that burst, fires, break-ins, theft and hailstorms. You should also remember that certain losses are excluded from a comprehensive protection, and these would include regular wear-and-tear, coastal floods and constant or repeated leaks.
You have full control over your deductible, allowing you to set it from $250 to $5,000.
| What's covered? | Details |
| --- | --- |
| Your property/dwelling | Will provide protection for damage or loss caused by a covered incident |
| Personal belongings | Personal items are covered against damage or theft |
| Living expenses | Provides protection for living expenses caused by homes that can not be lived in |
| Windstorms | Damages caused by windstorms are covered by your base home insurance plan |
| Liability | Coverage for incidents that cause personal or property damage on your property or unintentionally by you/your dwelling |
Why Square One Insurance is the Best for Home Insurance?
Highly Rated Home Insurance Company in Canada
If you've checked the Square One home insurance reviews, you'll know that they are highly rated by customers. According to Google My Business, they are rated 4.5/5.0 with 345 reviews. The home insurance provider has over 21,100 reviews with a 4.7/5.0 rating. Lastly, their BBB profile indicates they are a A+ rated company.
With such a high rating, this home insurance company has become a fan favorite of it's customers. With customers in Ontario, Alberta and British Columbia (to name a few), Square One Insurance is changing home insurance for the better.
Best Home Insurance Protection in Canada
When you're purchasing home insurance, you want the maximum protection, right? Square Once provides the highest level of protection in Canada for their home insurance. You get coverage for many common scenarios such as theft, water damage and fires. They even have coverage to ensure you're able to rebuild your home according to the city bylaw.
Square One is also available for new builds and new construction homes you may be purchasing.
Amazing Robust Digital Platform
Square One Insurance has a very easy to use digital platform. It is so user-friendly, you can have anyone use it! With their digital platform, you can get everything done. You can get a home insurance quote, purchase your insurance, submit a claim, ask questions and more. If you're someone who loves living the digital life, you will love that your home insurance company is this digital! However, if you ever need to talk to anyone, you can always pick up the phone and call.
Customized Personal Property Coverage
Their policies will provide coverage for most common belongings. These can include furniture, clothing and electronics. However, if you possess very specific personal items, they too can be added to your policy. They make it easy to add new items to your policy so that your valuables are protected.
These additional items can be things such as art items, bicycles, collectibles, watches and jewelry. Your sporting goods that fall under athletic/recreational activities can also be added for coverage. We recommend you visit Square One Insurance to learn more about their specific personal property coverage options.
Home Insurance with Building Replacement Coverage
Need guaranteed building replacement coverage? They've got it! When your home is insured with Square One, you can count on this feature to rebuild your home in the event of a loss. This will give you peace of mind when getting home insurance for your next purchase or current home. With this insurance company, you can get coverage for newly built homes or existing homes.
Quick and Simply Claims Submission and Management
Submitting a home insurance claim doesn't have to be lengthy, complicated and tedious. You can submit a claim online and get the ball rolling. The Square One adjusters will work with you to ensure that your claim is looked after. Based on their stats, they claim their payout on claims is 90%! That means 90% of all claims submitted are approved for a payout. You no longer need to wait on hold on the phone or sit in an insurance office.
No Fixed Term Contracts, Pay Monthly or Annually
Unlike other insurance companies, you are not stuck in a contract. You can choose to pay monthly or annually. You can always update your payment preference online. You will really love how simple, contract-free and protected you are with Square One Insurance.
Home Insurance for Detached Structures, Fences and Landscaping
A new home is a precious asset and you want to protect all of it. Square One provides building coverage which is on a replacement cost basis. This will provide coverage to the primary structure of the home, as well as any garage attached to it. They understand that building codes and bylaws can change, so they will ensure that they protect you on those fronts as well.
A detached structure, landscaping, fences, gazebos, workshops, garages and docks are part of an additional optional coverage. You will need to provide details of these items in your quoting process to get covered for such items.
Our Square One home insurance reviews below will indicate just how much customers are loving their policies.
Additional Home Insurance Options with Square One Insurance
Additional Living Expenses Insurance: This insurance protection provides coverage against living expenses that occur as a result of a loss. It can be due to your home being unlivable or not ready for occupancy. The protection provides policy holders with living expenses.
Legal Protection Insurance: This protection provides policy holders with access to a helpline for legal advice. You can get personal legal and tax advice on this phone line, but not relating to vehicles.
Rental Income Insurance: If an insured loss occurs on a rented premise, this insurance will cover the rental income that is collected by the homeowner.
Identity Theft and Financial Loss Insurance: If your identity is stolen, this protection will provide coverage for financial losses that can occur as a result. The protection will provide funds to re-instate your credit rating after identity theft has taken place.
Liability Insurance: If you unintentionally cause personal injury to someone or another property, this liability coverage will protect you. It also serves to provide protection for injuries that take place on your property.
Home Insurance Policy Deductibles by Square One
This home insurance company let's you customize your policy the way you want to. You can set your deductible and choose your coverage options. For example, let's assume your deductible is $500 and a theft occurs in the value of $2500. A submitted and approved claim would payout $2000, while you cover the deductible. With any insurance policy, the higher the deductible; the lower your insurance premium.
There are different types of deductibles that can apply, which depend on the type of loss:
Standard: The standard deductible is likely the most common one, which does not apply if any of the other losses below occur.
Inland Flood: The deductible for inland flood will apply on each loss that is insured (resulting from an inland flood). It's also important to understand that not all locations will have insurability for inland floods.
Earthquake: The earthquake deductible will apply on each insured loss resulting from this type of loss. It's not a common loss, but it can be an expensive one. Hence, the deductibles for earthquakes tend to be higher than the other types.
Hail: If a hailstorm occurs and causes loss, this type of deductible will apply in your claim. On all of these situations, Square One will present options to it's customers.
Your home insurance is not the best for offering the lowest premium, but it's the best for offering the best claims process. We often find ourselves fighting over the best rate for home and tenant insurance. Most homeowners forget that the only reason we purchase home insurance is for the protection and coverage. If the protection and coverage options are lacking or if the claims process is sub-par – that can quickly disvalue a company. From the many Square One Home Insurance reviews, we can tell that this home insurance company sets the standard for a next generation insurance firm.