It is now 2023, and the new construction home market is still keeping strong. We are going to walk you through 8 upgrades for your new build that will add value to your home.
A new build will put you in a brand new home, that has never been lived in. When you are in the process of building your new home, we recommend these 13 New Construction Home Upgrades to Avoid and Skip.
One thing many buyers fail to realize is the cost of a new build home. A pre-construction home will include multiple streams of costs:
Base Price

Upgrades Cost

Lot Premium

Closing Costs

Moving Costs
A handful of buyers will agree that the base price is fixed, with the lot premiums somewhat negotiable. But, you can control the cost of builder upgrades. Let's talk about the best new construction home upgrades that add value to your home.
Best New Home Construction Upgrades that Add Value
There are some new construction upgrades that will add value. If a particular home upgrade doesn't increase the value of your home, you should re-consider opting for it.
In general, an aesthetical upgrade will not add value to your home. A structural upgrade or an addition of a room will add value to your home.
Hardwood Flooring
A new construction home comes with carpeting in all areas of the home, except the bathroom, kitchen and hallways. A popular builder upgrade is the flooring – and you can choose hardwood flooring or laminate flooring, for example. In our home, we opted for oak flooring as they hold value and sturdiness.
If two identical homes are on the market, and one has hardwood flooring and the other has carpeting – the first home will get the higher offer. It can be a lot of work to replace carpets with flooring, not to mention all the labor, money and time involved. It is advised for buyers to opt for hardwood flooring to increase the value of their home. It also creates an even look throughout the house.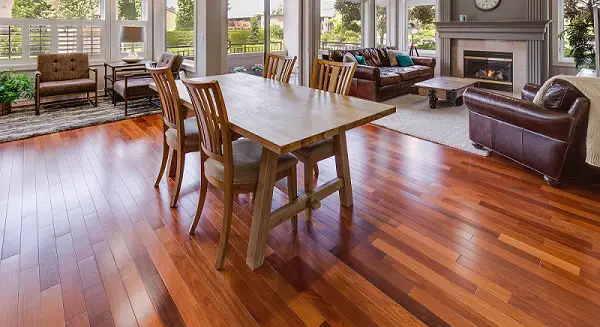 When choosing your flooring, make sure you consider all the available options at the design center.
High Ceiling Deeper Basement
A basement usually comes at a standard height. However, homes with high ceilings in the basement dramatically increase the value of the house. If you plan on finishing your basement, it is recommended to opt for a deeper basement. The extra $7,000 – $10,000 you spend on the deeper foundation pour will pay off tremendously.
A high ceiling basement will make it seem like any other level in the house and less like a basement. When your home is put on the market, your high ceilings in the basement will make a difference. Also, if you are renting your basement – you can charge a little higher because of the higher ceilings!
Basement Walkout Entrance
This is a high ROI new construction upgrade you should always consider for your home. A walkout entrance for your basement can cost about $20,000, but it's well worth it. Adding a walkout entrance to your home after it has been built, is extremely invasive and expensive.
A home with a walkout entrance from the basement can create a second source of income. In today's tough market, a home that can produce a stream of rental income will be valued much higher.
Roughed-in Plumbing
Planning on adding an extra bathroom in your basement? It will add value. However, you'll need a plumbing and sewer line in the basement. This is where a rough-in for your plumbing is handy. A rough-in plumbing line is part of the construction process, which brings in a plumbing line to the home.
When the time comes to finish your basement and add that bathroom, you don't have to dig into the concrete. Your plumbing lines are already there, and you just need to add the fixtures. It can dramatically offer you tremendous cost savings for your basement bathroom build. The costs vary by builder, home, location, etc. However, you can expect it to cost about $2000 per rough-in.
Roughed-in Electrical
Similar to the addition of plumbing lines, your electrical lines can also be extended to various areas of the home. For example, if you plan on installing a ceiling mount for your projector – you might want an outlet on the ceiling.
If your basement is unfinished, there are no drywalls up. You can add in electrical boxes for outlets at this point, as it'll save you hiring an electrician later on. While on this topic, most homes will come standard with a 100 amp electrical panel. A home with a higher electrical capacity will be an added value.
If you have tenants, they will be using their own electrical appliances, computers, washer, dryer and heating. A home upgraded to a 200-amp electrical panel can be an attractive feature in the home.

Kitchen
The kitchen is one of the most sought-after construction upgrades that add value. Your kitchen will be the focal point of your home; where you potentially spend the most amount of time. When selecting options to upgrade in the kitchen, we recommend focusing on what will add value.
A kitchen's functionality, quality and layout will make up the highest increase in value to your home. The little things such as kitchen cabinet hardware, pulls, and handles don't typically add value. For example, soft-close cabinet hinges are popular among kitchen upgrades – but the knobs can be done up later.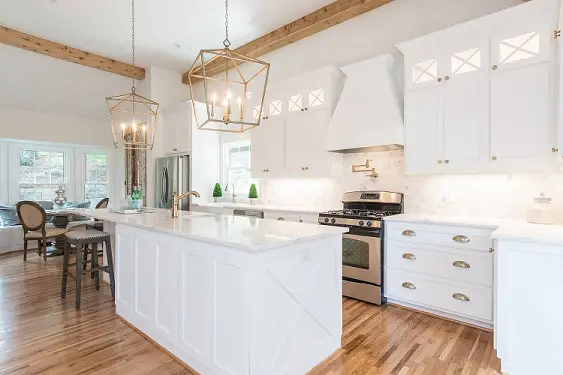 A few builders can offer a central vacuum in the kitchen; built under your cabinets or island. It's a nice feature that adds convenience and value.
Open Up the Walls
Open layout homes and open concept kitchen have become a huge trend in the last decade. It adds the illusion of space, brings in additional natural light and creates increased air flow. Most homes that undergo renovations use an open layout – opening up the walls and blending the kitchen with the living space.
A new build home should have an open layout, and if it doesn't – we recommend you investing in it. There are many upsides to an opening up the walls in the home – one of which is the increased home value.
A buyer will see space, functionality and trendiness in an open concept home.
Extra Garage
An extra garage – whether it's second or third, will be a great value-added upgrade to the home. If all the homes on your street or neighborhood have a two car garage, and you have a third – that spells value.
If you have the need and the capital to invest in an extra attached garage, you can go for it. Historically, the number of cars per family has increased over the last few decades. In Durham, we're seeing 2-4 cars per household.
A future home buyer will greatly value an additional indoor garage, as well as the added driveway space.