Did you know new construction homes with walkout basements can dramatically add value to your home? A walkout basement will allow you to rent out the basement of your home. This can bring in rental income; dramatically reducing your out-of-pocket cost of paying your mortgage. When interest rates rise, you can rest assured that the rental income can help supplement the increase in your monthly mortgage.
In Toronto, a basement is currently rented for anywhere from $1,500 to $1,800 per month. If you are generating rental income from your home; you could save thousands of dollars a year. Have you ever wondered why do new homes cost so much? We wrote an interesting article that has been generating some buzz on that topic!
Why Choose a Home with a Walkout Basement
When buyers are looking to buy a new home; they're often looking for the option to rent out the basement. Why? Rental income. With rising costs of living, everyone is looking to become a homeowner, but at a reduced cost. If you can manage to generate an income from your finished basement – you are already one step ahead of many people.
A Walkout Basement Can Add Value to Your Home
Since a walkout basement is a favorable addition to a home – it will add value to any home; whether new or old.
With most semi-detached and detached homes, the pre-construction home builder will give you the option to add a walkout. These walkout basement options can be an upgrade that costs $20,000 to $40,000. This is a considerable saving for most homeowners – as doing this after the home is built can cost upwards of $60,000 to $90,000. Not only will it cost more, but you will need to pay for permits and obtain approvals from the city.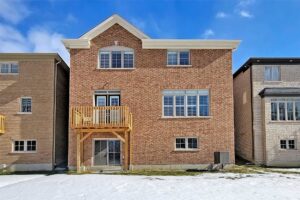 If you have the option for new construction homes with walkout basements and you have the capability to spend – it will be a valuable addition. On top of this, these are the best things to upgrade in a new construction home to add value.
In the view of a certified home appraiser, a walkout basement is not valued equally to that of an above-ground level home. An English basement or walkout basement will definitely add appraisal value because the entrance serves as a means of egress or point of exit.
Walkout Basements Add More Livable Space
In most homes, a basement is considered to be a dark and dingy space, normally used as storage. However, if a finished basement had a walkout entrance – it quickly becomes an additional living area for your home. You and your family would be more inclined to use the basement because it is easily accessible from the outside. Most walkout basements for new homes have entrance's on the side or rear of the home.
It will also let you host parties and get-togethers in the backyard while giving people access to your home. If someone needs to use the restroom or go indoors to rest – you don't have to worry about them going through the front of the home.
With the pandemic, it can be a good idea to keep guests in a single closed-off area of the home, such as the basement.
Get More Sunlight with a Walkout Basement
A finished basement with larger windows and a sliding patio door will give your home access to direct sunlight. Basements are known to be dark, but with this addition – you can gain an endless amount of sunlight. During the summer months, your basement will look like any other area of your house. When your basement feels less like a basement and more like a part of your house – you'll be more likely to use that space!
A Walkout Basement Gives You A Second Entrance
Although this is a given, it provides a good enough reason to have a walkout basement for your new home. The finished basement space can now be treated as a guest house for friends, families, or in-laws. In some cities, AirBnb and VRBO have been significant sources of revenue.
You can turn your basement into a short-term rental through the walkout basement. In Ontario, all short-term rentals must be registered with the city by Dec 31, 2020 for current rentals. New homes that are being rented for less than 28 days must be also registered prior to being listed.
The following home builders and projects in Ontario may offer new construction homes with walkout basements for their new builds:
Tribute Communities

Empire Communities

Great Gulf Homes

Fieldgate Homes

Mattamy Homes

Andrin Homes
You can always ask your detached or semi-detached home builder for a walkout basement floor plan. If the builder has the ability to complete the walkout, they will definitely make it an option for an upgrade.
What is the Cost to Add a Walkout Basement?
On average, it will cost between $20,000 to $130,000 to add a walkout basement to your existing home. The costs are for excavation, walkout doors, insulation/frost protection, concrete steps and railings, drainage and finishing work for retaining walls. If you are choosing a contractor to add a walkout basement, you need to choose one that has a history of completing this job.
Finding a reputable and trusted walkout basement contractor is easy when you can get recommendations from neighbors and friends.
Can a Walkout Basement Flood?
The walkout basement can flood if the walkout basement does not have a drainage system. The last step or ground floor of the walkout needs to have a drainage system connected to your waste line. When it rains or snows, the water will start to accumulate and needs to be filtered out. A proper drainage system will let the excess water drain away, preventing any floods into the home.
There are several problems that can affect your walkout basement drain. Your drain could be clogged, too small or non-existent. When your walkout door threshold (how high your door is off the ground) is not at least 4-6 inches of concrete – there is another opportunity for a flood. The door threshold acts as a barrier for rainwater and melted snow.
If any of these situations apply to you, you need to have a contractor fix the draining problems in your walkout entrance.
Are Walkout Basements Included in Square Footage?
For the purposes of listing your home, the square footage of your basement is not included in the size of your home. This is because your basement is considered below grade. The size of your walkout basement can be included under finished below-grade square footage. Even a finished and rented basement cannot be included in the total size of your home.
If the square footage of your walkout basement was included in the size of your home, you may encounter higher property taxes.
How Much Will it Cost to Finish a 1,000 Sq Ft Basement?
On average, the experts say it will cost $20,000 to finish a 1,000 sq ft basement. You should expect to add another $3,000 for furniture, cabinetry, and home decor. If you are adding a small bathroom, you can add another $5,000 for a three-piece bathroom.
If you're building a new home with a home builder, their cost to finish your basement will be much higher. If you have access to a reputable basement contractor, you can finish the job for much less. For example, some home builders will charge you upwards of $200 for spotlights in the basement, when a contractor can complete it for about half this price.
Today, home builders are in the business to create a profit, not to find affordable living spaces for home buyers. There are many new home upgrades to avoid and skip, and there are home upgrades that can add value. It is your job as a home buyer to be knowledgeable on what home upgrades you don't need.
With the real estate market as hot as it is right now, we need to remember that new homes appreciate faster in this market. When you're able to select the right types of upgrades' you can dramatically increase demand for offers, increase the value of offers and sell your home for a higher price.