Truoba offers modern house plans for various lot sizes, with an endless number of customizations. You can choose the number of bedrooms, bathrooms, stories, and garages – as well as make customizations to your house plan. In this Truoba review, we will go through all the essential elements you should be considering when purchasing Truoba home plans.

They are a team of architects and home designers who aim to create modern-day house plans that provide more than just elegance, but functionality as well.
In this review of Truoba house plans, we will consider various aspects of the construction drawings, types of files included, category of plans included, compliance with building codes, engineering measurements, ease of customizations, and house plan pricing.
Before Your Purchase
Truoba will create a free site plan for you with your chosen house plan. The site plan will show you what your property lot will look like with the floor plan you have selected. In our experience, other online services do not offer this preview ahead of time. You can use the site plan to decide to move forward with the chosen house plan or decide to choose another.
You can choose from pre-designed house plans or order a custom house plan that fits your style. In this Truoba review, we will first look at pre-designed house plans.
Pre-designed House Plans from Truoba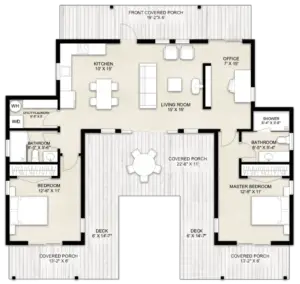 Truoba currently has 36 house plans in their pre-designed category, comprised of small, medium, and large homes. Depending on your required configuration, you could choose how many bedrooms, bathrooms, and garages you would like.
These house plans can be customized through their customization service (will be an extra charge). Their house plans currently range from as little as 285 square feet to 2981 square feet with so many options in-between.
Overall, we are quite stunned by the quality of the model home plans – as they're truly modern, contemporary, and fit with the times.
House Plan Construction Drawings
The construction drawings you receive as part of the house plan is the most important element to consider – especially because you're paying for this. Truoba offers customers two file options for house plans:
PDF Plans: These are the PDF house plan drawings that you can circulate with your custom home builder, or send to those involved in the building process. There are limited things you can do with these PDF plans, as no customizations can be made with them.
CAD Plans: These are CAD files generated using special software such as AutoCAD. A CAD file will allow an architect or custom home builder to make changes to the house plan. This is extremely important if you plan to make changes to the plan, or if tweaks are needed to meet local building codes.
It is always wise to choose house plans with CAD files as this offers you better value for your money. A PDF plan is simply a floor plan with extensive limitations to make changes.

What's Included in Your House Plan
Truoba house plans come with various drawings and plans that simplify life for your custom home builder and architect. Truoba has done all the thinking when it comes to the drawing requirements. Each Truoba house plan will include:
Foundation Plan

Floor Plan

Construction Details

Schedule of Doors and Windows

General Specifications (electrical, mechanical, and plumbing)

Electrical Plan

Elevations Plan

Cut-through Sections

Roofing Plan

Roof Construction Plan

Furniture Plan

Plumbing Plan

Construction Notes

Heating, Ventilation, and Air Conditioning Plan

Free Update to Construction Drawings**
For example, Norfolk County requires new construction permit applications to include a Plot Plan. This plan will show the permit reviewer where the structure will be built on your lot. It also serves as a way for the homebuilder to better understand the location of the foundation. Truoba offers customers a Plot Plan for an additional $100.
You will be required to submit the required dimensions of the lot, as well as information regarding the topography (site analysis). The plan would also show other items on the lot, such as driveways, trees, and existing powerlines.

Each house plan from Truoba includes an incredible amount of specifications and details. For example, prior to purchasing – you will be provided with the following:
House Area

Garage Area

Dimensions

Exterior Wall Framing Details

Foundation Type

Roofing Details

Insulation Details

Interior Ceiling Heights
A Structural Engineer is Required
Every region is different, and the requirements for the snow load regulations and building codes can vary between one plot and another. It is important to have a structural engineer review the house plans you purchase from Truoba.
A city office will sometimes only issue a building permit to those that have plans approved by a licensed structural engineer. This is why an engineer is needed – they will need to review the house plan, and make required changes.
Your structural engineer will make recommendations to change the foundation thickness, girders, rafters, and roof beams. You can speak to your local engineer to better understand the wind and snow load requirements for your specific ground conditions.
**Truoba has stated they will make changes to the construction drawings as per the recommendation by your local structural engineer for free. They will also make changes if your local county has requested it.
The competing online house plan services will typically charge to make such changes to the house plan. Additionally, Truoba will make free changes to your electrical plan, as they understand customers may prefer their lighting fixtures, switches, and outlets in specific locations around the home.
Truoba checks off the boxes when it comes to offering a full set of complete drawings that can be used by engineers to move forward with a home build. Competing brands have been known to miss important details such as measurements, girders, and specific plans.
Compliance with Building Code
Truoba makes it known to customers that an engineer is needed to review all house plans. While all their plans are built according to International Residential Code, there will be changes required for different provinces, states and cities. A licensed structural engineer or architect in your local area would be able to bring the house plan up to local building standards.
Truoba house plans all use the imperial unit of measure, which is used in the United States. However, you can request the online service to provide metric units if required (used commonly in Canada).
Customizations for Your Home Plan
What we love about Truoba is its extensive list of customizations. They've designed their house plans with customizations in mind. All their house plans can be customized to:
Remove or add bedrooms

Extend rooms or redesign rooms

Change the exterior facade such as material or siding

Change structural or framing plans

Increase garage space

Reverse the house plan
These are only some of the changes that can be made to their house plans. You can even be creative and build a new construction home with solar panels! For an extensive list, we recommend you visit their website.
In this Truoba review, we will also discuss the pricing for customizations to the house plans. The online service has categorized the changes into three groups: minor, medium, and major changes.
We love that there are no limitations to the number of revisions and changes you can make to the house plans. At the end of the day, this will be your home – so every change is as critical as the last.
Recommended Read: Best Things to Upgrade in a New Build Home to Add Value
Truoba House Plan Pricing
When comparing the pricing of house plans from Truoba with leading competitors, we can see there is extensive value in Truoba. With complete drawings, free changes to construction drawings, free site plans, and in-house customizations – we believe they offer greater value for money.
The best part about Truoba is the no upfront payment commitment. Customers are only required to pay for their house plan once the final design is approved.
If you're looking for a reliable house plan provider, we recommend Truoba house plans.
Custom Build Home Plans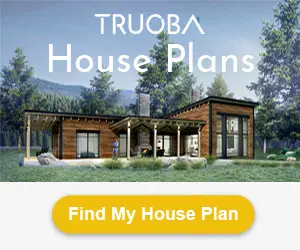 A pre-designed home plan may not be the best option for everyone. Truoba understands this and offers complete custom home plans. These are 100% custom designs brought to life from your ideas. After all, new homes are more energy efficient these days, so why not build your own?
Truoba takes a creative approach to build custom house plans, and we'd like to highlight this in our Truoba review.
The architects take into consideration the sun path, privacy, and the views in the area to initiate the process. The team creates a few concepts, and once you've chosen your preferred concept – they take it to the next step.
From there, the architects start developing the floor plan in greater detail. Along the way, you will be able to make changes. There will be multiple revisions and feedback sessions to get to the final completed stage.
When the final home design is firm, the Truoba team works on the construction drawings, plans, schedules, and CAD files.
Their custom home plan design pricing ranges from $2.50 to $3.00 per square foot. The pricing depends on how much additional work is required.
Overall, Truoba is the only online architect service we would recommend for modern house plans. If you have any questions, please visit their website for more information.